Tribute to one of the greatest actors ever, Philip Seymour Hoffman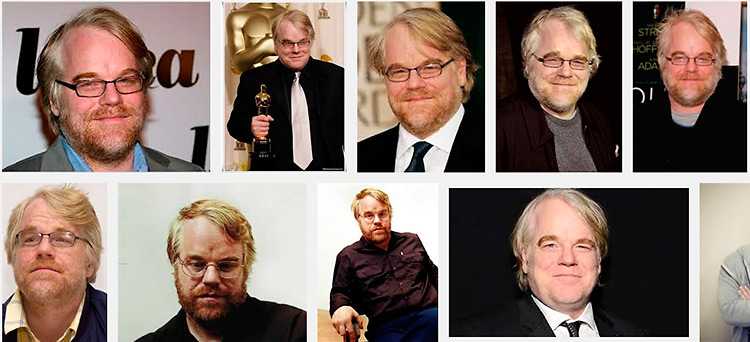 At Posterini.com we love movies and today is a sad day because one of the greatest actors in the world just left us! The great Philip Seymour Hoffman, an actor all of us admired, an actor that entertained, challenged and inspired us in so many films in the last years. This post is a tribute to him, to his magnetic presence, to his incredible skills as a performer, to his subtle way of engaging audiences and fellow actors, and his boundless charisma, that invisible and priceless asset that the greatest creatives of our times display effortlessly.
Many people admire his films but some don't know that Philip was a very accomplished performer at the theatre as well, having been nominated three times to the Tony awards! He was in fact an accomplished director and actor, both, and his list of awards is of course crowned with the 2005 Oscar for Capote.
His career began in 1991 and grew through fantastic supporting actor performances, remember the splendid Scent of a Woman (1992), the challenging Boogie Nights (1997), the memorable and super popular The Big Lebowski (1998), the fun Patch Adams (1998), and the complex Magnolia (1999). And of course remember as well the fantastic The Talented Mr. Ripley (1999), and we could continue on and on until Cold Mountain in 2003.
Right after that came the 2005 Oscar, but he has as well another 3 supporting actor nominations for Charlie Wilson's War (2007), Doubt (2008) and The Master (2012). And the list of extraordinary films continue! Remember Moneyball, the ides of march, Before the Devil Knows You're Dead and many others.
And he was just as active in theater through the LAByrinth Theater Company which he joined in 1995. His Tony award nominations came through three Broadway plays: True West (2000), Death of a Salesman (2012) and Long Day's Journey into Night (2003).
For many Philip represents the triumph of subtlety, the small details that make the difference between performances that are quickly forgotten and those that stand the test of time and remain with us forever.
His tragic death is also of course a strong reminder of the perils and risks of fame and stardom, and of all the things that surround those that ascend and reach the heights of human achievement.
Rest in peace Philip Seymour Hoffman, one of the greatest actors, thank you for inspiring and entertaining us, and transporting us to other lives and perspectives.